Why Choose Cox Communications
for Your Next Career?
At Cox, we connect people to the things they love. Now we would like to connect with you.
The Cox Communications Difference
We have a deep commitment to technology
an environment that nurtures personal development
Our employees are our most important resource
a diverse workforce that reflects the communities we serve
Our Benefits
We know that a successful workplace is an engaged workplace. For Cox to succeed, we need to attract, retain and reward the best people. We do this by being an employer of choice and offering competitive compensation and benefits packages for our employees.
Health & Wellness

Competitive benefits for medical, vision and dental plans
Life insurance for you, your spouse/domestic partner, and your children
Business travel life insurance
Tax-free health and dependent care flexible spending accounts
Short-term and long-term disability
Life, at Work and Home

Employee assistance program
Retirement Benefits including 401(k) matching
Adoption assistance
Paid vacation, holidays and personal days
Offers and discounts
Career and Personal Development

Learn@Cox with over 5,000 free online learning courses
Tuition reimbursement
Mentoring program
The Perks!

In many locations, discounted Cox services like cable, telephone and Internet
Employee discount programs from great retailers (Dell, GM, Ford, and Philips to name a few)
Location-specific benefits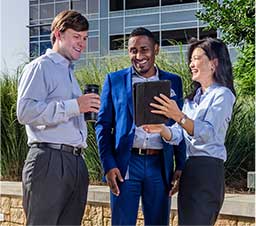 Diversity and inclusion has been at the core of Cox Communications' mission and values for more than 50 years. I'm proud of the work we continue to do to foster diversity with our people, customers, suppliers and in the community. Pat Esser, President
For the last decade, Cox has been recognized as the top operator for women by Women in Cable Telecommunications and has ranked among Diversity Inc's Top 50 Companies for diversity.
learn more
Cox in the Community
At Cox, our employees are committed to their careers and our customers, but also believe in giving back to the communities we serve. Philanthropy is a cornerstone for Cox, but what it really means is a critical focus on education, diversity and environmental issues.
Proud Moment
Cox Communications worked with the Department of Housing Development to provide 2,000 homes with affordable internet service.
Video clip courtesy of C-SPAN.
A snapshot of the organizations we support: