Early Career
Now it's your chance to take advantage of the opportunities our Internship, Co-op, and LEAD programs offer. You'll work alongside some of the most talented professionals in the industry, add value to the projects you work on, and discover the support for your personal and professional growth that comes with being part of Cox. Connect to your future with Cox Communications' Internship, Co-op and LEAD programs.
Chinye Oseji

Financial Analyst II, Reporting—Finance

"I attended George Washington University for undergrad and Georgia State University for my MBA. I learned about the Cox internship from the National Black MBA Association, and chose Cox Communications over other companies because of the culture. People at Cox are very open. Everyone here is ready to answer questions, give advice, and include people in projects. The most valuable thing I learned at Cox was to put myself out there, and to take initiative and be proactive in seeking solutions. Join programs and initiatives and stand out from the crowd – it's how you continue to grow your career."

Bethany Stewart

Business Process Analyst II—Technology

"I graduated from Southern Polytechnic State University with a degree in Industrial Engineering and a minor in Business Administration, and learned about Cox Communications (CCI) through the career services team there. I would recommend preparing for the interview by learning everything you can about Cox. They want and need your knowledge, passion, and creativity—so bring it! The best thing about my experience at Cox was working in a culture that expected and wanted me to grow. It was an environment and atmosphere that allowed me to mature."

Shernovius Bennett

Event Engineer I—IT Operations

"I attended Auburn University and received my Bachelor's in Software Engineering. I chose Cox Communications because they foster an atmosphere that allows you to complete work without being micromanaged. Every leader I've encountered at Cox gives employees the freedom to solve issues. The most valuable thing I learned at Cox is to be a sponge. There is so much knowledge around campus that you just have to try to soak up as much as possible and pass on what you learn to others."
Internships and
Co-Ops
Paid Internships
12-week program
Paid positions
Students get practical experience related to their major that will enhance classroom learning
College sophomores, juniors, seniors and graduate students.
Students supervised and evaluated at work site by Cox
Technology Co-Ops
Three alternate semesters on a full-time basis, year-round
Paid positions
College sophomores and juniors
3-semester development plan for students
What an Internship or Co-op opportunity offers:
GET STARTED RIGHT
GET ACCESS TO ACCOMPLISHMENT
GET A MENTOR
GET CONNECTED TO OPPORTUNITY
GET SKILLS
GET A CHANCE TO GIVE BACK
GET RECOGNIZED FOR GREAT WORK
Apply for Internships
Apply to our CO-OP Program
What makes a Cox internship different and unique?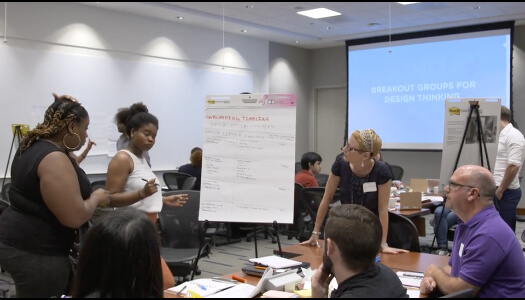 LEAD Program
Get ahead with Cox's LEAD program. It's an immersive two-year leadership development program concentrated on the Project Management discipline. Participants receive three months of focused training followed by supported on-the-job project management, providing meaningful and challenging work, access to senior leadership, and ideal training for future leaders. At the end of the two years participants continue to serve as full-time project managers at Cox Communications.
What does LEAD offer?
Learning: Participants receive training in leadership, business acumen and project management; and learn in the classroom, through experience, and with guest speakers.
On-the-Job Experience: Each participant completes several project assignments spanning 6-12 months each. All assignments take place on the main Atlanta campus and provide an opportunity to engage with operations, finance, sales, marketing, technology, human resources, product development, and supply chain.
Mentoring & Coaching: Participant's each receive continuous mentoring and coaching from many different support outlets, including the assigned senior manager, rotational manager, program director, and mentor.
What are the qualifications for LEAD?
Bachelor's degree and/or advanced degree
Minimum 3.0 GPA on a 4.0 scale
Problem-solving and analytical skills
Excellent interpersonal, leadership, presentation and collaboration skills
Computer skills, including Microsoft Office Suite and online research
U.S. work authorization; sponsorship not available for this program
LEARN MORE AT COXLEAD.COM